FOCSLE Music Events
most 1st & 5th Tues., and most 2nd & 4th Weds., each month
at The Guide Dog, Bevois Valley, SOUTHAMPTON SO14 6SF
Occasionally, elsewhere in the city
13 Mar 2019
Guest:  NICK DOW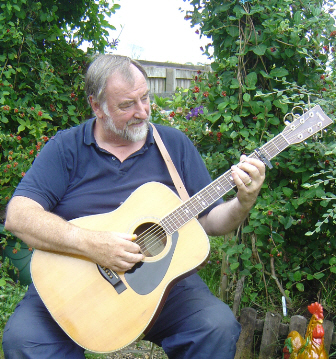 Traditional folksong par excellence. One of the best folk voices of his generation, NICK DOW has been performing and song-collecting for over forty years, gleaning material from the West Country, and being given songs by the Travelling people, with whom he has lived and worked. His guitar-playing is sensitive and well thought-out and his repertoire contains many songs you will hear nowhere else. "A mellow, lived-in voice… [like] … Cyril Tawney and Dave Burland" (Tony Hendry), "sturdy, well-rounded and full-toned" … "direct, unfussy delivery" (David Kidman), "excellent style" (Gavin Atkin), are just some of the nice things said and written about him by those in the know.
Nick's gigs are informative and entertaining: he has a great sense of humour, and audiences don't go home disappointed. Personal circumstances mean he's trimming his gig-list considerably, so this is now a much rarer chance to catch this accomplished vocalist and guitarist. In a non-musical capacity, he is trained in the dying art of Gypsy wagon painting.
Most of the usual Doghouse Guest arrangements apply: c.40 mins. of singaround, followed by one or two support acts (t.b.a.), plus two longer (45 mins.) spots from Nick. Raffle in the break. There'll be an £8 door-charge for this event.
---